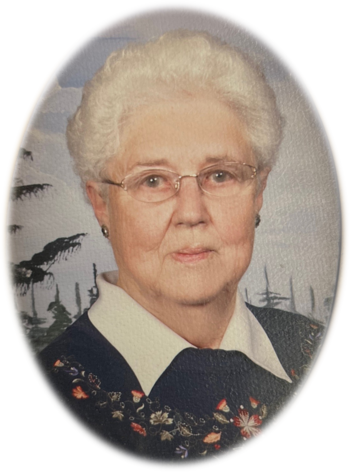 Wilma Heckel Grunewaldt
Dates
May 13, 1923 - September 8, 2023

Obituary
Wilma Heckel Grunewaldt, 100, of Mitchell, formerly of Ethan, SD, passed into eternity Friday, September 8, 2023, at Firesteel Healthcare Center in Mitchell. Funeral services will be 10:30 AM Wednesday, September 20, at Harvest Community Church in Mitchell. Visitation will be one hour prior to the funeral service. Burial will be at Sunset Memorial Cemetery in Mitchell. Arrangements by Bittner Funeral Chapel.
Wilma Jean Hooker was born 13 May 1923 on the family farm in Plano Township, Hanson County, SD, the eldest of two children born to John Garland and Coral Winifred (Bayley) Hooker. She grew up on the farm and attended Plano Consolidated School from first grade through graduation. She had perfect attendance all twelve years! The school bus in those days was a horse-drawn wagon. Even when cars became available, the old horse-drawn buses were sometimes used when the muddy spring roads were impassable to motor vehicle traffic.
Growing up in South Dakota during the dust bowl days of the thirties was challenging, but the Hooker Family persevered through drought, grasshopper plagues, and low prices. Wilma learned lessons and skills she retained her entire life for growing and storing food, maintaining a large garden for feeding her family through the summers, and canning to ensure an adequate supply for the winters.
Wilma married Adam Heckel on 1 May 1942 in Plankinton, South Dakota. His farm was about five miles northeast of Ethan, and is where Adam and Wilma raised their five children: Leonard, Violet, Phyllis, Marlyn, and Janice. The virtues and values Wilma learned from her parents, and which were honed as she grew up on a farm during the dust bowl days, were instilled in her children. Faith was first and foremost, and the couple saw to it that their children attended church regularly.
Family was very important to Wilma, and it spilled over to her extended family as well. She had the heart of a servant and spent years behind the scenes preparing meals for weddings, funerals, potlucks, and family reunions. She arrived early and stayed late to make sure all was in order.
After Adam's death in January 1985, Wilma married Walter Grunewaldt. They enjoyed managing campgrounds in South Dakota during the summer and camping in Tucson during the winter for many years. Their garden was a highlight of their summers. Walt passed away in August 2006. Wilma then lived independently in Ethan for several years and only recently moved to Firesteel Healthcare Center in Mitchell, where she resided until her death.
Grateful for sharing her life are her children: Leonard Heckel, Ethan; Violet (Don) Minnix, Garden Grove, CA; Marlyn (Rachel) Heckel, Mitchell; Janice (Kurt) Schuler, Wildomar, CA; stepchildren: Dale (Marlene), Mitchell; John (Janet), Sioux Falls; and Sharon (Corky) Richie, Mobridge; and a host of grandchildren, step-grandchildren, great-grandchildren, step-great-grandchildren, nieces and nephews.
Wilma was preceded in death by her parents, her husbands, daughter Phyllis, and her younger brother Marvin.
Visitation(s)
Date
Wednesday, September 20, 2023
Time
9:30 AM - 10:30 AM
Location
Harvest Community Church
1017 W Norway Ave
Mitchell, SD 57301
Service
Date
Wednesday, September 20, 2023
Time
10:30 AM
Location
Harvest Community Church
1017 W Norway Ave
Mitchell, SD 57301
Cemetery
Sunset Memorial Cemetery
Mitchell, SD